OUIK's researcher Juan Pastor-Ivars wrote a chapter "The veil, the clearing and the flow: New commons of Japanese traditional gardens in Kanazawa city" in a newly published book "Urban Nature -Enriching Belonging, Wellbeing and Bioculture-".
This book was edited By Michelle L. Cocks and Charlie M. Shackleton and published by Routledge in November 2020.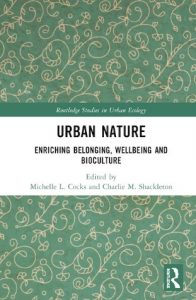 Book Resume:
This book showcases the diversity of ways in which urban residents from varying cultural contexts view, interact, engage, and give meaning to urban nature, aiming to counterbalance the dominance of Western depictions and values of urban nature and design. This collection of case studies includes examples from Africa, Asia, Europe and North and South America and reflects on the multi-dimensional aspects of engagements with urban nature through a biocultural diversity lens. It will also be key reading for students in the relevant fields of anthropology, development studies, geography, social ecology and urban studies.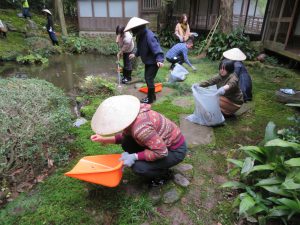 Juan Chapter: "The veil, the clearing and the flow: New commons of Japanese traditional gardens in Kanazawa city".
This chapter focuses on the formal version of urban nature created in Japan; specifically, the Japanese traditional garden, a space created in-between nature. It takes up a spatial analysis from a model built on the abstraction of 'space in nature.' The spatial types of the veil, the clearing, and flow are advocated as the spatial components structuring Japanese traditional gardens and to achieving a comprehensive perspective, the subject has been approached from three complementary spheres: philosophy, design, and ecology, showing the case of Kanazawa City. Currently, with cities around the world immersed in social, economic and environmental challenges, the production of urban nature through the three Japanese spatial types serves as a tool through which citizens can express their aspirations about how to address these challenges. Japanese traditional gardens are not the exception to those challenges.  Numbers of Japanese gardens have been neglected and diminished due to the  a shrinking Japanese population. The chapter discusses how we should face these issues and also the need to reinterpret traditional wisdom as the basis for the creation of a new urban nature, and it reveals clues about how to restore kinship with nature.
This book is the result of the book-workshop on urban biocultural diversity celebrated during the first week of April, 13 2019 when researchers from around the world met in East London, South Africa organized and sponsored by the professors of the University of Rhodes in South Africa.  Read More: https://ouik.unu.edu/en/news/2221
WHERE TO BUY ONLINE
https://www.routledge.com/Urban-Nature-Enriching-Belonging-Wellbeing-and-Bioculture/Cocks-Shackleton/p/book/9780367427573
https://www.amazon.co.jp/-/en/Michelle-L-Cocks/dp/0367427575/ref=tmm_hrd_swatch_0?_encoding=UTF8&qid=&sr=
https://www.kinokuniya.co.jp/f/dsg-02-9780367427573
https://books.google.co.jp/books?id=-BAHEAAAQBAJ&pg=PR7&hl=ja&source=gbs_selected_pages&cad=2#v=onepage&q&f=false