OUIK and Komatsu Summer School (KSS) jointly held an SDGs workshop for high school students. KSS is a week-long Japanese-English bilingual summer school held annually in Komatsu, Ishikawa. Now in its fifth year, 60 students from across Japan shared meals and sleeping quarters with Japanese and international undergraduate students. KSS offers opportunities for making new self-discoveries and contemplating one's future.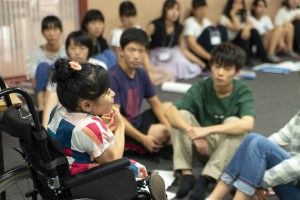 In the workshop, SDG Goal 10 "Reduce inequality within and among countries" was used as a vehicle for the students to think about the issues of discrimination and inequality in Japan and what equality looks like.
Two public figures were invited to speak: Natsuko Izena, a columnist who lives in a wheelchair due to a congenital disease that causes fragile bones, and Soshi Matsuoka, who has publicly come out as gay and writes articles on legal and political issues faced by LGBT people. To delve deep into their respective stories, people had a Q&A sessions: "How did you develop your self-identity?" "What values due you currently uphold?" and "What can we all do to ensure that everyone is valued as an individual?"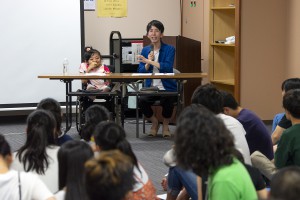 The high school students seemed deeply moved by the experiences and perspectives of the two speakers, offering an ideal opportunity to come to know the true meaning of helping others and respecting everyone as an individual. They also gained an understanding that dialogue is crucial for solving all manner of challenges. Lastly, the position that "making the world a kinder place serves you too" expressed by both speakers seemed to begin the process of softening the hearts of the students, who expressed feeling constricted by a sense of duty and responsibility.