14th CBD COP has been held in Sharm El-Sheikh, Egypt from 17th -29th November 2018.  
UNU-IAS OUIK reported progress of the Ishikawa Declaration, which is approved by the 1st Asian Conference on Buicultural Diversity, at Nature and Culture Summit .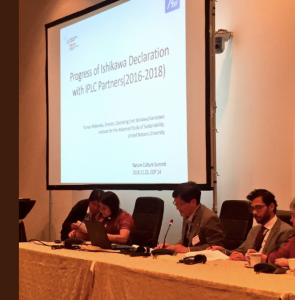 Active dialogue t integrated conservation and local nature and culture as well as to promote rights of indigenous people and local community over the natural resource was exchanges. at the summit.
Mr. Tsunao Watanabe, Director of OUIK presented outcomes from Ishikawa international Cooperation Programm focusing on the capacity building of practitioners for GIAHS promotion, new commons for Japanese garden project by Biocultural Diversity initiative in Kanazawa city.
Presentation materials are available from here.