OUIK's Researcher Ms Koyama visited Prof. Yongmei Xi of Zhejiang University, who has been involved in the conservation and reintroduction of crested ibis to the wild in China for many years. Dr Xi came to Japan with a pair of crested ibis, Youyou and Yanyan, when they were given to Japan from China in 1998 and worked on artificial breeding in Sado Island. Ms Koyama learned about the status of the ibis reintroduction in China and Prof. Xi's experiences in Sado Island. She learnt that the reintroduction of the crested ibis has been successfully carried out in several areas in China, and that there is a need to establish the ibis populations in several areas in Japan to protect them from disease and environmental change. 
Thanks to Prof. Xi, Ms Koyama was able to visit Xiazhu Lake National Wetland Park in Deqing County, Huzhou City, Zhejiang Province, where ibis breeding and reintroduction efforts have been carried out. Breeding at its breeding facility has been going well and the reintroduction in this area started in 2014. The wild population has steadily increased since and now exceeds 280 individuals. By learning from advanced practices in China and Japan, we would like to support efforts in the Noto Peninsula, which has been selected as the next candidate site for releasing the crested ibis.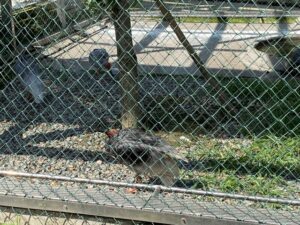 Crested ibis tinged with black breeding color from head to back (grooming).