Operating Unit Ishikawa Kanazawa (OUIK) is the only local branch office of the United Nations University Institute for the Advanced Study of Sustainability (UNU-IAS) and will mark its 10th anniversary this year. On this milestone year, OUIK is implementing a series of events named 'SDGs Social Dialogue in Ishikawa' over one-year period to promote Sustainable Development Goals (SDGs) within Ishikawa Prefecture and Kanazawa City. Through these events, we are hoping to promote a broad cooperation among various people who are pushing the SDGs forward in a variety of fields and create opportunities to let everyone know 'what the SDGs are' and 'what kind of approaches there are to implement the SDGs'.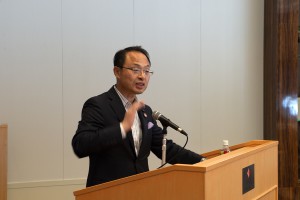 On June 4th, 2018, to start-off the SDGs Dialogue, the round-table conference was held in KKR Hotel Kanazawa and 16 groups of key persons who are implementing the SDGs at a local level gave presentations. Those participants who had not had a chance to communicate previously sat around the round-table shared views with each other and searched for future collaboration. They also strengthened their hope to realize the SDGs for 2030. To achieve the SDGs, it is considered essential to create organic linkages between the entities who are trying to solve issues in various sectors, including social, environmental, and economic sectors. In a local community where face-to-face networks are established, just like in this round-table conference, we think it is easier to see the synergetic effects of collaboration. Thus, though this dialogue, OUIK hopes to share information and support cooperation among various entities so that the municipalities, companies, citizens' groups, as well as educational and research institutes within Ishikawa Prefecture can implement the SDGs.
Through this approach, what we can call a grand scale social experiment of building models of the SDGs implementation has started from Ishikawa/Kanazawa. Please look forward to OUIK's activities this year and we are hoping to have more individuals and partner organizations who will support these activities.