Hakusan:アーカイブ
2015年05月12日
2018年07月10日
Map information  compiled by various scales to learn about  the link between anthropogenic activities and physical environment within Hokuriku Region.
2018年04月02日
2017年09月26日
Dr. Yoshihiko Iida participated in the 7th training workshop of the East Asian Biosphere Reserve Network (EABRN) (cover photo provided by MAB National Committee of the Republic of Korea).
A workshop titled 'Biodiversity Infomatics in Big Data Era' was held in Institute of Botany, Chinese Academy of Sciences (IBCAS) from September 4 (Mon.) to 9 (Sat.), 2017. 47 participants from 17 Asian countries (Uzbekistan (1), Tajikistan (2), Kazakhstan (2), Mongolia (2), Pakistan (3), India (1), Bangladesh (1), Sri Lanka (1), Philippines (3), Thailand (2), Vietnam (3), Nepal (2), Malaysia (1), Indonesia (1), South Korea (6), China (15), and Japan (1)) participated in the workshop.
The training course started with a lecture from Prof. Keping Ma (the Institute of Botany, Chinese Academy of Science) on the importance of information sharing on biodiversity conservation and monitoring particularly based on the field of taxonomy at Asian scale. More than 10 researchers from the institute provided lectures of more specific information on the topic. Through these lectures, participants learnt various methodologies to build specimen database utilizing the internet and to monitor animals and plants in forest areas with IT and remote sensing techniques. In addition, participants visited a long-term forest ecosystem monitoring site to understand and learn from the practical methods in the field.  On September 9 (Sat.), Mr. Qunli Han, the former director of the Division of Ecological and Earth Sciences of UNESCO, gave a lecture on various efforts related to UNESCO Biosphere Reserves at global scale.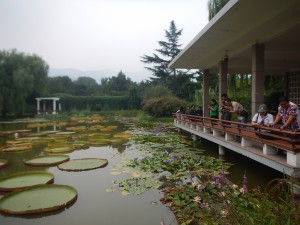 Botanical garden at Institute of Botany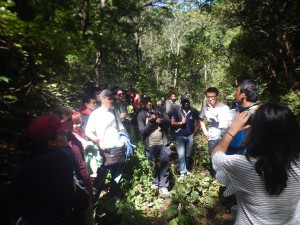 Introduction of research activities at the long-term forest ecosystem monitoring site in Beijing (Donglingshan 20-ha forest dynamic plot)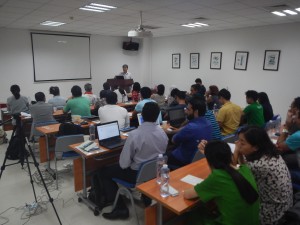 Lecture on UNESCO Biosphere Reserves from Mr. Qunli Han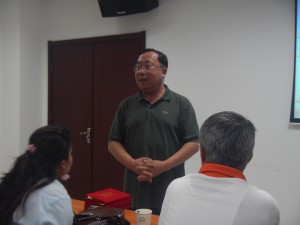 Greeting from Prof. Keping Ma to participants
The second half of the 7th EABRN workshop was held in South Korea from September 11 (Mon.) to 14 (Thu.), 2017. Seven people from four countries (Russia (2), Kazakhstan (2), Mongolia (2), and Japan (1)) participated and visited Gwangneung Forest Biosphere Reserve (GFBR) and Mount Sorak Biosphere Reserve (MSBR) in the northern part of the country (hosted by: MAB National Committee of the Republic of Korea and UNESCO Beijing Office).  In the GFBR, together with local citizens, participants learnt about the current condition and measures against pine wilt disease and oak wilt disease in the forest reserve. In the MSBR, after listening to the explanation on the outline of the National Park's governance and visiting a visitor center and a National Herbarium, the participants understood their various activities on wildlife (such as insects and mammals) protection, conservation, and monitoring in practice. They also visited related field sites. The efforts of protecting and conserving Korean goral species (closely related to serow) in the MSBR (implemented by Species Restoration Technology Institute, Korea National Park Services) were well explained. During the discussion, Dr. Iida pointed out about a case of wildlife damage in Japan similar to problems occurring in South Korea. It was recognized that wildlife management was a common issue for both countries. Furthermore, the activity of "Citizen College" at MSBR was introduced as the best practice that has contributed to connect the citizens with the Biosphere Reserve, through its course and alumni network.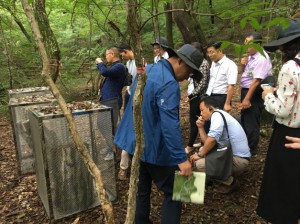 Insect monitoring site in a forest plot (photo: MAB National Committee of the Republic of Korea)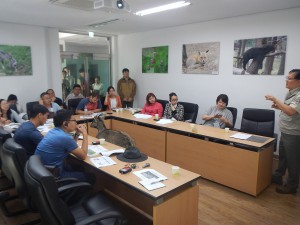 Explanation about the goral conservation activities being carried out by Species Restoration Technology Institute, Korea National Park Services, in Mount Sorak Biosphere Reserve
This international workshop and attendance of the participants were fully supported by UNESCO Beijing Office.
2016年05月20日
2017年07月18日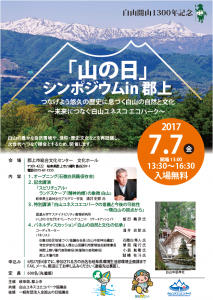 2017年05月23日
Dr. Yoshihiko Iida ,OUIK research associate, participated in the 10th Southeast Asia Biosphere Reserves Network (SeaBRnet) meeting to make  key note speech "Roles and challenges of local implementation for UNESCO science program: A case of Japanese BRs"
He contributed by introducing  biosphere reserves in Japan as well as jointly implemented project by OUIK and Mount Hakusan BR "Mutual Learning Platform for Asian Local Practitioners of UNESCO's Man and the Biosphere (MAB) Programme" in 2016 .
He also chaired the session on the coordination of UNESCO science programs including Geopark, International Hydrological Programme (IHP) and World heritage. Detailed report can be refereed from UNESCO Jakarta and Japanese Funds-in-Trust (JFIT)
 16-17 May 2017 (Dr. Iida participated session on 16th)
Indonesia, Jakarta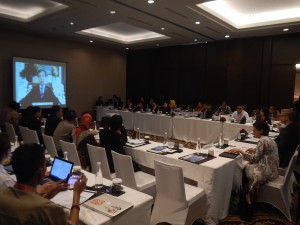 2018年09月29日
An international symposium exploring the concept of green infrastructure in urban landscapes was held in Kanazawa, which in 2018 marked 50 years since its Ordinance on the Preservation of the Traditional Environment (Currently Ordinance on urban planning with beautiful landscape in Kanazawa) entered into force. Green infrastructure refers to land use planning that aims to achieve sustainable development by reassessing nature from a multifunctionality perspective. Because of this ordinance, the vegetated slopes, canals, riverfronts, temples, traditional gardens and other unique elements integrated with the city's landscape and scenery have been conserved and restored. This symposium invited experts from various fields in and outside Japan to participate in a discourse on whether Kanazawa's urban landscape could be redefined as green infrastructure.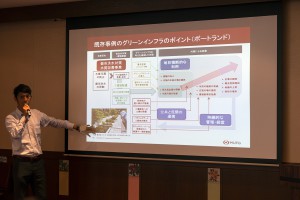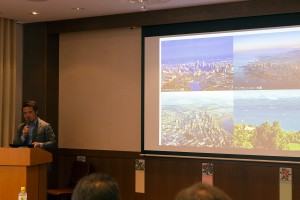 In Part 1, titled "Understanding Green Infrastructure", examples of green infrastructure around the world were introduced. Various viewpoints were presented — for example, that utilizing existing canals, parking lots, and other infrastructure is an important part of building livable cities, and that green infrastructure should be defined by each region.
In Part 2, research and initiatives related to green infrastructure, mainly in Kanazawa, were presented on the symposium's theme. In a report from the perspectives of disaster risk reduction, the environment, and economy, the unique potential of green infrastructure in Kanazawa was discussed, with unusual benefits connected to crime deterrence and education being described. In a presentation on the need for sustainable conservation efforts and collaborative management, it was proposed that sustainable conservation could be realized in conjunction with Goals 11, 15, and 17 of the SDGs.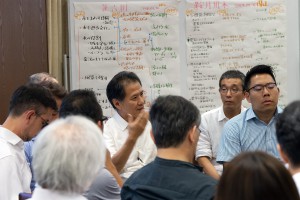 Part 3 was held as a roundtable in which attendees discussed the use of urban landscapes as green infrastructure. Lots of views were expressed, including comparisons between green and gray infrastructure, the advantages of substituting the words "nature protection/conservation" with green infrastructure, and that visualizing the multifunctional benefits of green infrastructure is critical to deepening our understanding of it.
As ideas were shared, we at OUIK felt that this symposium was a tangible first step in disseminating from Kanazawa a theoretical framework on urban planning and green infrastructure that will allow communities worldwide to advance sustainable development in a unified way.
2016年05月30日
OUIK Biocultural series booklet #2 [Mount Hakusan Biosphere Reserve -Creating a new path for communities and nature-] is now available from our publication archive. (view PDF) This booklet has been produced by collaboration with 7 local municipals of Hakusan UNESCO Biosphere Reserve as well as UNESCO MAB networking team to celebrate the acceptance of revision plan with newly set transition zone.
We are looking forward to see how learning opportunity will be developed by communities with this booklet .
2016年02月26日
The Japanese National Commission for UNESCO has been inviting about five fellows of the National Commission for UNESCO in the Asia-Pacific region every year since 1965. The purpose of this program is to further understanding of Japanese UNESCO activities through visits to organizations conducting UNESCO activities, and also to educational, scientific and cultural facilities. This year, five fellows came from Germany, Malaysia, China, Korea and Thailand to study Japan's advanced initiatives.
The fellows learned about activities related to the UNESCO Creative Cities Network at the Kanazawa City government offices, and also visited Hakusan UNESCO Biosphere Reserves (BR) site, and OUIK.
We mentioned that there are many internationally certified regions and heritage sites other than the above in Ishikawa Prefecture. The synergistic effect created by this abundance of sites will help us to link Kanazawa and its peripheral areas with the keyword "biocultural diversity" and become a comprehensive platform for the preservation of local biocultural resources.