Kanazawa:アーカイブ
2021年01月06日
2019年07月10日
The book introduces unique roles and teachings of Japanese Gardens in Kanazawa City in a relation with human society and it is breaking new ground for Kanazawa's sustainable future. 
2016年07月01日
From January 1, 2016 until 2030, United Nations adopted Sustainable Development Goals (SGDs), with 17 goals and 169 targets, to end poverty, protect the planet, and ensure prosperity for all. These goals are applied to all countries and regions, and for the next 15 years they will be the critical tools in the dialogs to solve environmental, economic and social issues. Youth capacity development towards those issues will be essential to ensure the successful achievements of those goals. This Workshop is jointly created by Kanazawa University and United Nations University, and it aims to create the platform for the younger generations to come together and deepen the discussions on SDGs and share the regional issues.
2018年07月10日
Map information  compiled by various scales to learn about  the link between anthropogenic activities and physical environment within Hokuriku Region.
2020年10月27日
Sustainable Development Goal 7 is to "ensure access to affordable, reliable, sustainable and modern energy for all". Although we nominally understand that it is good to choose renewable energy, instead of energy derived from fossil fuel, it might be challenging to take concrete actions to realise it.
Against this backdrop, at the 14th SDGs Café we discussed local production and consumption of energy in the Hokuriku region. We invited two experts, Mr. Shinichiro Nagahara and Mr. Akira Taniguchi. Mr. Nagahara is from Kanazawa Civil Power Stations, an organisation that operates solar power stations and a wind power station invested in by groups of citizens in Ishikawa. Mr. Akira Taniguchi is from Ohisama Shinpo Energy, a company that promotes renewable energy and energy-saving business. They introduced the good practices of citizen-owned power plants in Japan.
This SDGs Café consisted of four sessions. First, Ms. Mikiko Nagai, Office Manager of OUIK, gave an opening greeting and introduction to the webinar. Secondly, Mr. Nagahara gave a presentation, titled "Achieving sustainable society through the power of citizens! The case of Kanazawa Civil Power Stations", introducing the activities of his organisation. Thirdly, Mr. Taniguchi gave a presentation, titled "Local production and consumption through renewable energy to enrich communities", introducing examples of the renewable energy sector's efforts in Japan, specifically the Hokuriku region, and Germany, as well as  the case of Iida City, Nagano Prefecture. Finally, a panel discussion was held with Ms. Nagai and the two experts to discuss the business models of citizen-owned power plants, their equipment, and their policies. The panel also made comments on the system of renewable energy service delivery in Kanazawa city.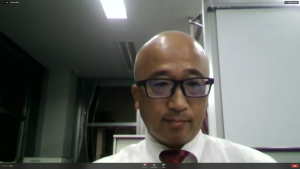 Mr. Nagahara defines the civil power station as a system in which individual citizens and local communities invest, build, and operate renewable energy projects by themselves to achieve local production and consumption of energy in the region. The idea was widespread in Japan in 2012 when the law for the feed-in-tariff was brought into effect in Japan.
After visiting Denmark in 2005 to learn about their wind power plant systems, more than 80 per cent of which are owned by local co-operatives, Mr. Nagahara decided to start a project to construct a wind power plant in Ishikawa. The investment from citizens covered around 300 million of the 500 million Japanese yen needed for its construction costs. Through his experiences with the project, he recognised that the citizens' consciousness is essential to proceed with environmentally friendly city development.
Since then, he has developed some renewable energy plants in Ishikawa, from solar power energy plants to a woody biomass power plant. Mr. Nagahara hopes that Kanazawa will become an environmentally friendly city resilient to disasters thanks to the spread of zero-energy houses by 2030. A zero-energy house is a housing energy system where the produced energy becomes higher than the primary energy consumption by combining energy saving, renewable energy production, and energy storage, contributing to greenhouse gas reduction. Mr. Nagahara concluded that the primary purpose of his addressing environmental problems is to contribute to the prevention of global warming, and that zero-energy houses are reasonable solutions to it.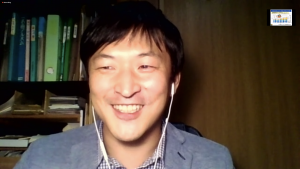 Mr. Taniguchi said that Japan should produce more biomass energy, as it is rich in biomass, referring to the example of Sweden, where a company supplies heat by delivering hot water derived from biomass fuel. Also, referring to the case of Germany, where individuals and farmers' investments occupy almost 60 percent of the total installed capacity in renewable energy, Mr. Taniguchi claimed that citizens' participation is essential to spread renewable energy. He also mentioned that notably, commercial motivation encourages citizens to invest.
Mr. Taniguchi also introduced the case of the citizen-owned power plant in Iida City, where a company procures and installs solar power panels using a fund financed by citizens from all over Japan. The company sells the produced power directly to the facilities with the installed solar panels. The fund was paid off in 15 years. The project was made possible due to the longer term and the exceptional purchase price in the power purchase agreement shrewdly decided by the Iida City administration. Another benefit is that the solar power projects contribute to revitalising the regional economy, as research forecasts that the potential accumulation of economic value added to the region through the project will reach 1.7 billion Japanese yen by 2030. Mr. Taniguchi emphasised that the most crucial step was to produce energy helpful for the region by themselves with the support of the municipal government and local regulations.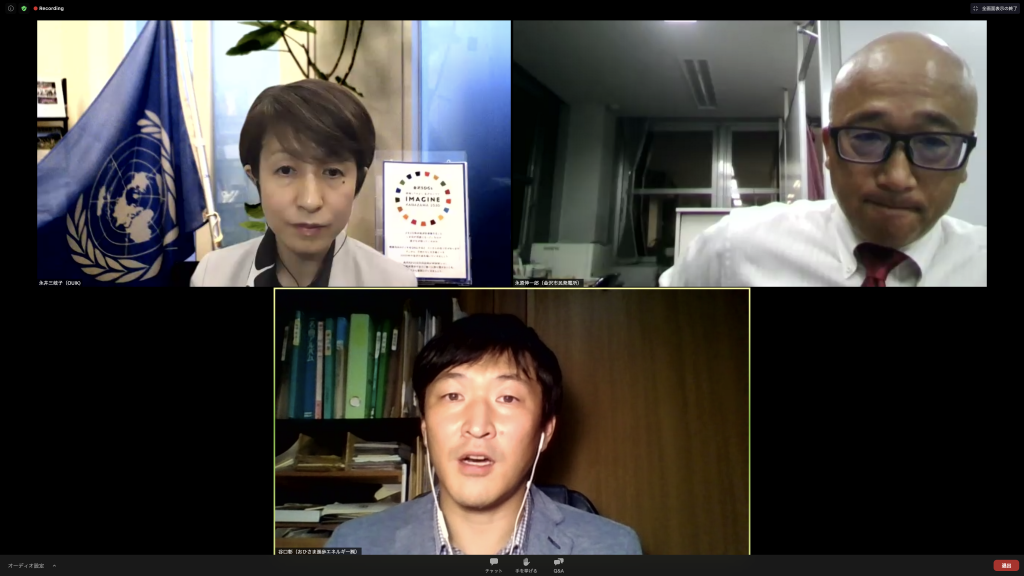 Finally, a panel discussion was held with Ms. Nagai, Mr. Nagahara and Mr. Taniguchi to discuss the issues related to local production and consumption of energy. The panel raised several interesting points as discussion topics.
Concerning the conflict of interest between citizen-owned power plants and large electricity companies, one of the answers was that the relationship is not like competitors, but rather like business partners when citizen-owned power plants sell a small amount of electricity. To the question of how large electricity companies' business models will change when zero-energy houses are widespread, large electricity companies can still keep seven-tenths of the electricity market as the electricity for industrial use occupies around 70 percent.
Also, obstacles to proceeding with policies to allow installing solar panels on roofs of public facilities were discussed. Such policies have not yet been promoted in Ishikawa Prefecture and Kanazawa City, while Iida City has already advanced such policies. It is uncommon for public facilities to lease their roofs for solar power to electricity providers in some municipalities, and even in cases where the installation of panels is allowed, with the initial cost being double the ordinary price, it becomes a burden to the municipalities. As such, it is crucial to develop a partnership model with the private sector.
Lastly, the panel discussed Kanazawa City's decision to request a private company to operate a hydropower plant and a gas power plant owned by the city, as the hydropower plant operates financially healthily while the gas power plant struggles. The panel pointed out that the hydropower plant should be operated over a long period without being bound by immediate profits, as citizens of Kanazawa City might be proud of its existence in the city. Also, the importance of the philosophy of the operation and the sustainability of operating organisations was pointed out.
2020年07月21日
UNU-IAS collaboration with Kanazawa City, Japan on the Sustainable Development Goals (SDGs) contributed to the selection of the city as an "SDGs Future City 2020" and a "Municipal SDGs Model Project" in July 2020, under a scheme of the Government of Japan. The goal is to create a sustainable city where citizens and visitors can share in the beauty of the city based on biological and cultural diversity such as nature, history, and culture, while the number of tourists increases.
The UNU-IAS Operating Unit Ishikawa / Kanazawa (OUIK), located in Kanazawa City, has been working with the city to achieve the SDGs, starting with the SDGs Ishikawa–Kanazawa Dialogue Series in 2018. A joint declaration was signed in March 2019 between Kanazawa City, the Junior Chamber of Commerce of Kanazawa, and UNU-IAS OUIK, launching the Kanazawa SDGs project "IMAGINE KANAZAWA 2030". In order to deepen understanding of the SDGs and regional issues, the "SDGs Café Series" was initiated as a forum for communication where local people can easily talk about the future of Kanazawa and regional issues, and "SDGs Meetings" held to discuss regional issues. UNU-IAS OUIK worked with various local stakeholders to create the "Kanazawa Future Scenario" by exchanging ideas.
"Environmental Model Cities" and "Environmental Future Cities" of Japan
In 2008, the Japanese Government adopted a system to select "Environmental Model Cities" and "Environmental Future Cities" with the aim of achieving a sustainable economy and society. Kanazawa City was selected as an "SDGs Future City" in addition to the "Model Cities for the Environment" and "Future City for the Environment" to propose initiatives to achieve the SDGs with the aim of further promoting regional development. Up to 30 cities each year have been selected since 2018, and in Ishikawa Prefecture, Suzu City (FY2018), Hakusan City (FY2018), Komatsu City (FY2019), and this year Kaga City, Nomi City, and Kanazawa City were newly selected. Kanazawa City is the first municipality in the prefecture to be selected as a "Municipal SDGs Model Project". These cities were selected based on an evaluation in terms of SDG 17, and are expected to proactively develop their projects to achieve the goals.
Future Plans
OUIK will continue to collaborate with Kanazawa City and the Junior Chamber of Commerce of Kanazawa on a variety of activities such as raising awareness and publicising the SDGs and building a community of co-creation based on the cooperative framework. In particular, in developing attractive SDGs tours, which is an important element of the model project, UNU-IAS OUIK will make use of its practical experience in workshops and other activities to consider "Japanese Gardens and the Sustainability of Kanazawa" and the results of its research on the Noto's Satoyama Satoumi GIAHS (Globaly Important Agricultural Heritage System) and Mount Hakusan Biosphere Reserve, which have been cultivated through OUIK's research over the years. UNU-IAS OUIK will provide advice on how to make use of green infrastructure for tourism and SDGs tourism in the wider region.
2020年07月10日
2020年10月13日
At many UN meetings on the matter, it has been said that local municipalities have a vital role to play in achieving the SDGs, to the point that of the 169 targets of the SDGs, 65% are estimated to be difficult to achieve without the participation of local municipalities. At this webinar, we discussed what kinds of initiatives should be undertaken at a municipal level in order to encourage transparency in municipal administration and cooperation and participation from citizens regarding setting and monitoring indicators for the SDGs.
First, representing Kanazawa City, the event's co-sponsor, Yukiyoshi Yamano (Mayor of Kanazawa City) gave an opening speech. "In terms of governance, I think even simple daily tasks will effectively contribute to the achievement of the SDGs. In order to maintain motivation, I think it is important to create an environment in which it is easy to see the progress made towards our targets. Each municipality needs to have achievement targets and monitoring systems that are appropriate for them, and which are publicized in a way that allows citizens and partners to see the progress made as well. It is vital to maintain mutual understanding as we advance our efforts," Yamano opined.
The first keynote lecture was given by sustainability and regional revitalization researcher Shun Kawakubo (Associate Professor, Hosei University, Faculty of Engineering and Design, Department of Architecture) on the topic of "Local SDGs Promotion and the Significance of Target-Based Monitoring."
To support local municipalities, Kawakubo is developing a local SDGs platform in order to make the status of local SDGs initiatives more visible. The platform also includes interview articles from the municipalities and ways to share and announce new initiatives. While he encouraged the municipalities to utilize the platform, he also emphasized how vital it is to proactively involve the citizens when establishing SDGs indicators that reflect the current status of progress made, saying, "It's important for citizens to have the awareness that the SDGs are an issue close to their hometown, and to encourage them to incorporate working towards the goals in their everyday lives."
The second keynote lecture was given by Kenichiro Fukushima (Board Representative, Code for Kanazawa/Civic Tech Japan) on the topic of "Citizen Participation Through Technology: What is Open Governance?", in which he discussed using open governance and civic technology to implement local SDGs, monitor indicators, and encourage citizen participation.
Fukushima explained that because it is best to have citizens participate in the process of monitoring and gathering indicator data, it is vital to have transparency in government work and create a society that allows citizens to participate; in other words, it is important to create a framework of open governance. He went on to say, "Municipalities must consider to what extent they are able to utilize technology within the scope of their limitations, and to keep an open mind as they encourage citizens' participation. It is also important that the citizens understand and proactively promote use of the IT and other technological aspects of the initiatives, participate in the community, and cooperate with government efforts. It's important that both sides continue to share their mindset with each other."
Next, Masayuki Yamamoto (Head of Policy Promotion Division, Policy Strategy Department of Kaga City) introduced Kaga City's smart SDGs initiative. Kaga is a city known for its traditional crafts, famous hot spring resorts, and tourist spots, but it is also a city faced with structural issues such as a lack of human resources as a result of depopulation, and a decentralized, multipolar city structure. As such, they are aiming to become a smart city by using advanced technology to promote innovation and become a more sustainable city. As part of their initiatives to work towards becoming a smart city, they are considering incorporating a variety of technological tools and systems as solutions to everyday problems, including drones, MaaS, avatars, and e-residency. Additionally, as part of their "Kaga City RE100 (100% Renewable Energy)" initiative, they are aiming to construct a carbon-free society and locally produce energy for local use.
Finally, UNU-OUIK Office Manager Nagai moderated a panel discussion in which a variety of ideas and opinions were expressed, including the following:
o It is important for governments to explain the various functions of the SDGs when cooperating with citizens and to utilize them together
o It is important for the divisions in charge within government bodies to coordinate and gather resources
o Local SDGs platforms might be used to exchange information and opinions
o Measuring, monitoring, and analysis of indicators might be split up between governments, academics, and the citizenry
o It might be good to promote the SDGs through fields that go beyond the scope of existing SDGs (culture, art, sports etc.)
2020年09月28日
The theme of the 13th SDGs Café was "All Citizens Should be Gardeners! Thinking about the Kanazawa SDGs from a Green Infrastructure* Perspective."
*What is green infrastructure? Green infrastructure refers to land use planning with the goal of creating a sustainable society by re-evaluating nature from a multi-functional perspective.
In 1968, Kanazawa City was the first in the nation to establish a Traditional Environment Protection Law, which stipulated that green spaces and canals within the city must be protected alongside traditional samurai houses, temples, and shrines as part of Kanazawa's historical cityscape. These preservation efforts continue to this day, and the goal of creating and utilizing green infrastructure is explicitly included in the Kanazawa Future Visions presented earlier this year.
Our guest this time was UNU-OUIK Research Associate Juan Pastor Ivars who has lived in Japan for 11 years since coming from Spain to research traditional Japanese gardens in Kyoto and Kanazawa. Juan aims to develop his research in a way that is rooted in the local region by cooperating with citizens to think about the future of Kanazawa City. 
Since 2010, Kanazawa's population has been declining, while the number of unoccupied homes continues to rise, and the amount of natural space gradually dwindles. In the Kanazawa of 2030 that Juan imagines, unoccupied homes and parking lots would be replaced with green infrastructure, and in order to continue to protect that greenery he proposes that all citizens become gardeners.
"Thanks to Kanazawa's gardens, the city is rich in both ecological and cultural diversity. Intimate connections between people are balanced with intimate relationships with nature, and those relationships with nature in turn lead to happiness between people. Japanese gardens have all these benefits and more," Juan explained.
The next guest to give us some ideas was green infrastructure expert, researcher, and publicist Takaaki Nishida (Associate Professor, Kyoto Sangyo University, Faculty of Life Sciences, Department of Industrial Life Sciences), who is involved in many different activities, including publishing collections of examples of a wide variety of green infrastructure projects both in Japan and overseas. First, Nishida explained the concept of green infrastructure, an idea that has yet to gain widespread recognition, as follows: "Green infrastructure is defined as a framework in which, rather than focusing solely on protecting nature, we seek to make use of its benefits to promote regional revitalization and prevent and reduce the effects of natural disasters. It's a way of thinking in which the goal is to use nature's inherent features to our advantage to benefit both the economy and society, which in turn results in nature becoming enriched as well."
Next, he introduced several examples of efforts to revitalize unused land with greenery currently being undertaken around the world. He argued that there are many places in Japan where similar projects could be done, saying "For example, finding ways to utilize spaces like abandoned homes or parking lots is an important point. It is also important to engage in discussions and balance the risks and merits of these projects."Finally, Office Manager Nagai closed the webinar, saying "I hope those who participated today will continue to promote green infrastructure going forward and cooperate with efforts to implement it in Kanazawa in the future."
2019年10月28日
On the 22nd of October 2019, the second volunteer cleaning activity at Shinrensha Temple Garden and the first workshop about green infrastructure were held. This time, together with Mr. Maruyama from Kanazawa Univ., Mr. Sakamura from JAIST, as well as their students, we invited Ms. Hayashi from Ryukoku Univ. as a guest speaker to talk about her research on the land use of Lake Biwa.  
OUIK's researcher Dr. Ivars, the main organizer of this event, talked about his research on Kanazawa's biocultural diversity. As he mentioned in his book published last July, it is important for citizens to actively collaborate to conserve the nature that exists in cities. Dr. Ivars is hoping that events like this cleaning workshop become more common among locals and tourists, as it would help the owners of the gardens maintain and preserve them. Dr. Ivars conducted a survey of participants before and after the cleaning. The results showed that cleaning the gardens increased positive emotions and reduced negative emotions. This activity gives benefits not only to the garden owner, but also to the participants. 
Next, Ms. Hayashi's presentation taught us the importance of taking records on land use. If the cultural landscape and biodiversity of Japanese gardens in Kanazawa is a micro perspective, Ms. Hayashi's story was more of a macro perspective. Ms. Hayashi's research focuses on the natural environment and cultural landscapes of the past, and investigating changes in land use and the natural environment.  Using a map showing the surrounding area of ​​Lake Biwa in Shiga Prefecture, she explained that investigating how to use the natural environment that has existed from the past to the present time can suggest ways to connect people and nature sustainably, or industries that match the local environment. 
After the lecture, we started the cleaning activities in the Shinrensha Garden. 
It was a beautiful autumn day, and the participants seemed to enjoy being close to nature outside. Participants mainly picked up fallen leaves in the main garden area and the graveyard behind the garden.  After one hour, the garden was finally clean, and we moved on to the discussion session. 
Each group summarized their feelings and impressions of this experience in a 3-minute presentation. Some thoughts included: "What kind of gardens attract people and give easier access to people?" "Let's make use of fallen leaves" "I was able to relax and enjoy myself" and so on.  
Spending time in the garden surrounded by nature gives people living in the city opportunities to  come in contact with nature and share a common purpose with other people. The participants enjoyed learning in the beautiful garden, and they seemed very satisfied.