On 27th August, Operating Unit Ishikawa Kanazawa (OUIK), Kanazawa University, the Ecological Democracy Foundation, and Kanazawa University Noto Satoyama Satoumi Research Division, co-organized the international symposium "Livelihoods, Nature, and Cultural Landscapes."
The event was attended by more than seventy people. Dr. Hikaru Samuta from Kanazawa University welcomed the symposium participants and Dr. Kota Maruya oversaw the event. It consisted of three panel sessions, each of which was headed by a featured guest and followed by presentations from researchers in diverse fields.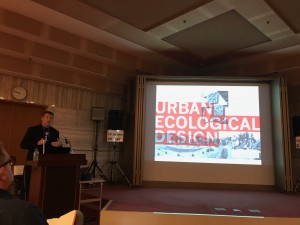 Professor Kenneth Peter Yocom from the University of Washington led the first session and started off with a presentation about urban ecological design. He focused on the concept of "living cities" and used the city of Seattle in the United States of America to illustrate this idea. Dr. Peter Yokom's presentation was followed by Toyama University Professor Keichi Oku's research session. During this session, Dr. Oku clarified the idea of cultural landscapes as seen in Japan. After Dr. Oku's session, Ms. Yuki Hagino from the Team Maruyama, used her family's story of settling into rural Noto in order to learn about the lifestyles of local citizens as a case study to demonstrate how citizens live in harmony with nature.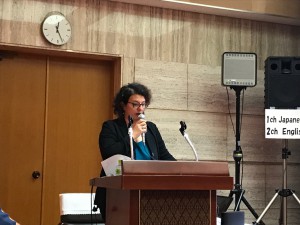 Professor Valentina Orioli, the deputy mayor for urban and conservation areas at the municipality of Bologna in Italy, led the second session with a presentation about the urban cultural heritage of her city. It focused on conservation and valorization. Following Dr. Orioli's presentation, Dr. Juan Pastor Ivars from OUIK gave a lecture on the challenges and opportunities that urban cultural landscapes face, which can be local or global in scale. Finally, Dr. Kota Maruya concluded the morning session by giving a talk about how the manufacturing of traditional Japanese ceramics demonstrates cultural and landscape diversity.
In the afternoon Professor Masato Dohi from the Tokyo Institute of Technology led the third session by exploring the topic of ecological democracy in Kanazawa and the Noto area. Afterwards Dr. Aida Mammadova from Kanazawa University conducted the final presentation of the day. She introduced the case of local private farm where  persons with disabilities work and explore their potential to contribute to the sustainable agriculture.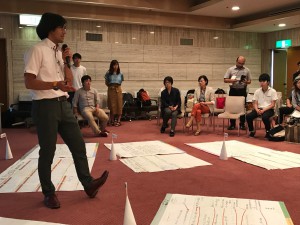 The symposium concluded with a roundtable session coordinated by Dr. Kota Maruya and students of the Tokyo Institute of Technology. Through this session, the participants tried to visualize and quantify their t awareness  on the cultural, biological, and landscape diversity in Noto peninsula and Kanazawa city, where some of them visited  during the previous two days by excursion.
During the closing remarks, Professor Masayuki Sasaki from Doshisha University concluded that it will be necessary to strengthen the dialogue between public administration, professionals, and citizens. This will lead to further discussion about how to foster the ecological and social links embedded in landscape design.
<Invited speech>
Kenneth Peter Yocom(University of Washington, Department of Landscape Architecture)
Valentina Orioli(University of Bologna, Department of Architecture)Associate professor of Urban Planning at the Department of Architecture in Bologna University and Deputy Mayor for Urban Planning, Real Estate, Environment, Preservtion ad Renewal of the Historic Center at the Municipality of Bologna. Vice-president of "Urban@it", a national Centre of studies for urban policies which includes 13 Italian Universities.
Prof. Dohi Masato(Tokyo Institute of Technology, School of Environment and Society)
<Case Presentations>
Session 1  Livelihoods and Landscapes in Nature
Hirokazu Oku (University of Toyama, Landscape Management, Tourism Resources, and World Heritage)
Yuki Hagino (Team Maruyama)
Session 2  The Culture and Landscapes of Livelihoods
Juan Pastor – Ivars (UNU-IAS OUIK)
Kota Maruyama (School of Regional Development Studies, College of Human and Social Sciences)
Session 3 Nature and Culture in Kanazawa and Ishikawa
 Mammadova Aida (Kanazawa University, International Student Center)